Hard Water Treatment Systems
What Makes Water Hard?
Water is considered "hard" if it contains excessive amounts of calcium and magnesium. This is what water softeners remove from your water. These minerals create scale which leads to reduced water flow through pipes. With hard water, there's a nasty buildup that encircles your bathtub or shower. Hard water buildup can wreak havoc on your appliances and cause soaps and detergents to lose their effectiveness. Worst of all, hard water deposits make your clothes dingy, stain your sinks, spot your glasses and clog your pipes. Just imagine the effects hard water has on your skin. A new water softener installation by Guthrie & Frey provides hard water treatment while supplying clean and safe water for your home.
Water Softener for Private Wells
Water softeners for private wells may require a custom solution. If your new home will be supported by private well water, see us for a free water analysis and advice on what type of water softeners or water conditioning equipment would be ideal for your new home.
FREE Water Analysis
Haven't found what you're looking for? Let us help!
Request information fast from one of our water conditioning specialists to help you find the right water softener for you.
Our Service Locations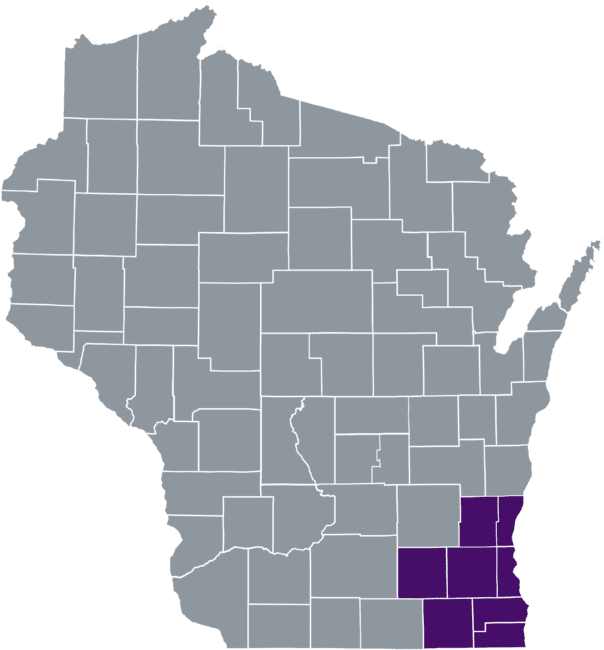 Ask An Expert About Water Softeners
According to the U.S. Geologic Survey, 85% of the United States has to cope with hard water, which is water with excessive levels of calcium and magnesium. While hard water is not considered to be unhealthy for people to drink, it can be very unhealthy for household plumbing, cleaning processes, and water-using appliances. The phrase "Hard Water" came about because it was found to be very hard to clean with. Schedule a free water test to uncover hard water treatment options for your home.
What do hard water scale deposits do?
Hard water scale deposits tend to form on the heating elements and heat transfer surfaces in these units, which leads to a shortened operational life and reduced efficiency. Reports have shown that a water heater's useful life can be reduced by as much as 50 percent through hard water scale build-up.
Why is it hard to wash soap off with soft water?
The squeaky clean feeling that many people correlate with cleanliness is actually the complete opposite. That feeling typically happens because there is still soap residue on your body that is there because of the reaction calcium and magnesium has with soap. With a water softener installed in your home, your skin should actually feel smooth and slippery, the way skin should naturally feel when wet. You'll also notice that you require much less shampoo and soap in soft water as opposed to hard water. Your hair will also be free of soap residue allowing it to be more manageable.
Why does my water smell like rotten eggs?
There are two forms of sulfurs that can appear in water: hydrogen sulfide gas, and sulfate salt. Hydrogen sulfide can have a rotten egg smell & taste. Hydrogen sulfide can also be responsible for tarnished silverware and yellow or black stains on kitchen or bathroom fixtures. Hydrogen sulfide can also cause pipe corrosion.
Hydrogen sulfide is corrected by an oxidizing method that will remove contaminants from water through a chemical reaction. Aerating is the process of exposing water to pure oxygen. The oxidation process is designed to convert the hydrogen sulfide gas to a solid that can be mechanically removed.
The "Rotten Egg" odor can also be the result of sulfur reducing bacteria. (SRB's) Although they don't present a health risk, SRB's can result in odor, staining, & mechanical problems throughout the plumbing and related appliances. The most common way to treat for SRB's is with extended exposure to bactericidal levels of chlorine. Particularly different cases may require pH adjustments and contact times in excess of 48 hours.
Don't Just Take Our Word For It
"Very, Very happy from start to finish with Guthrie and Frey! Professional, friendly and knowledgeable! Would highly recommend. Installed a new water Softener for us."
Gayle B.
"Mike the sales guy was very good at explaining what my options were for a water softener. Once I selected the right equipment they called back within 30 minutes to schedule the install. The install guy was very professional and did great Job. Now I never have to listen to my wife say the hard water is ruining her hair!"
John B.
"Purchased a new water softener and had it installed. Everyone at G&F I dealt with was knowledgeable, professional and exceedingly pleasant to deal with. I thought Adam, the installer did an exceptional job."
Steve H.
"This company has the best customer service!!! They have done several projects for us including RO and water softner. They had to come back to help us with an issue which they quickly scheduled and took care of. I couldn't be happier with the service. Thank you!"
Katie G.
"Great customer service. The technicians that installed the softener unit were so patient and informative. I'll recommend Guthrie and Frey any day!"
Justin H.
"On time, reviewed salt needs, changed RO filter, friendly, carried salt to our destination. Thank You."
Susan W.
---
Learn More About Water Softeners