Iron Curtain Water Softener
Find the right drinking water filtration system
The Iron Curtain Filter System from Guthrie & Frey solves a multitude of water problems by removing iron, sulfur and manganese from your water. The Iron Curtain dissolves these minerals and then filters them away, leaving clean, fresh smelling, good tasting water. No more iron stains, musty taste or bad odors. With an iron filter, your plumbing and appliances are protected against rust build-up and corrosion, leading to a longer product life and improved performance.
No Obligation Water Analysis
Always have your water tested before you purchase a water treatment system. Every area in Southeastern Wisconsin has unique iron filter needs. Guthrie & Frey will be happy to test your water to determine the best iron filtration system for you.
FREE Water Analysis
Haven't found what you're looking for? Let us help!
Request information fast from one of our water conditioning specialists to help you find the right water softener for you.
Our Service Locations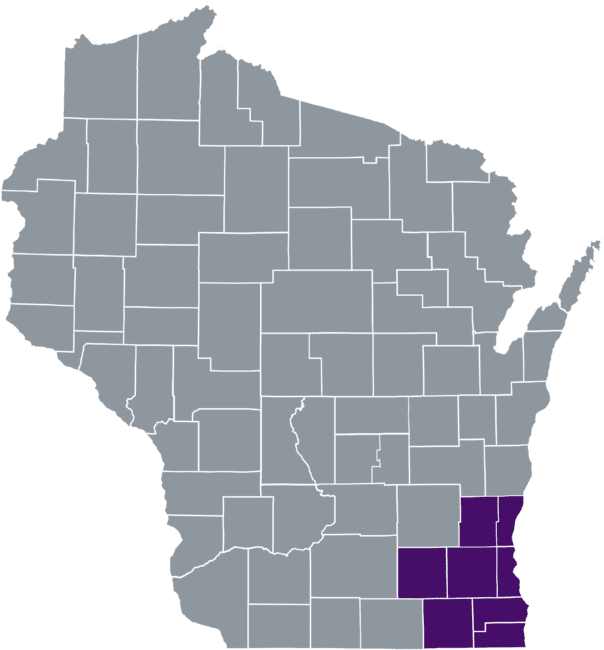 Ask An Expert About Iron Filters
Why does my tap water leave orange stains?
There are different types of iron found in water that cause different problems. Ferrous iron is clear iron that may have an off taste that will cause rust staining when it has an opportunity to come into contact with oxygen. This type of iron can sometimes be filtered through a water softener. If the iron is above a certain level, a water softener alone will not be able to accommodate excessive levels of iron. This level is determined through a water analysis.
Another type of iron found in this area is ferric iron. This type of iron has an orange appearance and sometimes may also be filtered through a water softener if the iron level is not excessive.
A third type of iron staining can result from an iron reducing bacteria. Although not a health concern, iron bacteria can result in staining and mechanical problems with several appliances. This type of contaminant must be eliminated with chlorine or other bactericidal water conditioning technologies.
When dealing with a higher level of iron, an iron filter is required. This piece of equipment is installed prior to the water softener and works independently of the water softener. Guthrie & Frey Water Conditioning installs an iron filter called the Iron Curtain. It is designed to treat the water for both iron and odor, leaving you clean water free of minerals.
How long do iron filters last?
We recommend having your Iron Curtain System serviced every 4-6 years.  As a courtesy to our customers, we send out maintenance post cards 4 years after your last Iron Curtain filter service was provided. Some homeowners do prefer to have their equipment maintained only as needed.  Surprisingly, we haven't seen some of our clients for over 10 years after their installation!  The level and frequency of maintenance on an Iron Curtain System is dependent on the water quality the system is filtering.  However, a system that hasn't been routinely maintained may require a more costly service call.
What is the life expectancy of an Iron Curtain System?
We typically see Iron Curtain Filtration Systems have a life expectancy of 15-20 years.  The Iron Curtain System is the technology that we most frequently recommend for iron filtration and odor in private well water applications.
What are the signs my iron filter needs service?
If you notice that your water pressure has decreased, it may be a symptom of your Iron Curtain being restricted.  You can confirm this easily yourself by putting your Iron Curtain on bypass and turning on a faucet to see if your pressure increases.  If it does improve, call us for routine maintenance.
Another sign your iron filter system may need service is spitting faucets. If you turn your water on and the water "spits" out of the faucet, it needs to be serviced.  This is associated with the check valve and will require a visit from an expert that may involve cleaning of the check valve or the valve may need to be replaced.
Without a water test, it is hard to know for sure. See if your area has a prevalent iron presence by finding your location here.
Don't Just Take Our Word For It
"Two gentlemen came to service and update my Iron Curtain system. They were on time, knowledgeable and focused. Changed a number of parts and explained what they were doing and why they were doing it. Very pleased."
Patrick R.
"Many thanks to Guthrie and Frey for replacing our water system today. They removed a nearly 20 year old Culligan set of equipment and replaced it in 3 hours with a brand new Iron Curtain and a 40,000 grain softener, and both systems are state-of-the-art and Wisconsin-made. Light years better! Zero pressure to "make a sale" and nothing but professionals from the consultant to the installers. Can't say enough how awesome it was working with them."
Bill L.
---
Learn More About Iron Filters